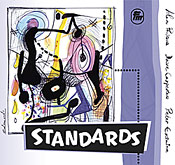 San Diego Union-Tribune November 15, 2007
Album Reviews - Jazz Alley
By T. Michael Crowell
NIGHT&DAY EDITOR
There's no reason not to like "Standards," a finely crafted CD of 10 tunes recorded by the Pasqua/Carpenter/Erskine Trio on the Fuzzy Music label.
But the real point here is not the music. This CD was recorded live at the Neurosciences Institute on Torrey Pines Mesa, where the trio will unveil its new release Tuesday night. It is also co-produced by the Athenaeum Music & Arts Library's Dan Atkinson, who also produced the library's jazz program.
All that makes "Standards" worth a listen. But what makes it an essential listen is the sound.
This is the first commercial release recorded with a new microphone technology developed in La Jolla by a company called KMF Audio. The technology is being financed, developed and marketed as a "revolutionary new design in recording microphones" and although the musical nuances found on recordings made with the new technology are not in-your-face obvious, they are nevertheless stunning to hear.
Improvements in sound technology often lead to changes in the way we all listen to music. There were no thematic "albums" recorded until 12-inch vinyl came along in the late-1940s, no pristine clarity until CDs were invented in the mid-1980s. What changes a mike like KMF Audio's will bring are still to be determined, but for an idiom like jazz, where the dynamic of sound and the clarity of subtle performances only enhances the pleasure of listening, changes are bound to happen.
Music recorded with a KMF mike has a depth to its sound unheard of in recordings made with the current crop of microphones. The definition of the music is so pristine that light rhythms played on cymbals jump out from the mix like they never have.
"Standards" (3 stars) is as much a demonstration disc for the new mike as it is for music from the Pasqua/Carpenter/Erskine Trio. That's not a slight, as this is indeed a fine collection of musicians and the disc is certainly a pleasure.
And there's no telling if KMF's mike will catch on with musicians and producers. That has as much to do with marketing as it does with innovation. But it's certainly a jump forward in sound recording.
back to Reviews / Comments main page